13.56MHZ Type 2 Ntag213 Printable Inkjet PVC Cards
Product Code: INKJET Printable PVC Card-H-0002
Availability: In Stock
Ask For Price
13.56MHZ Type 2 Ntag213 Printable Inkjet PVC Cards
This is a new technology for making cards. No need any bulk equipment or professional operation
Only one inkjet printer, heat laminator, trimmer can make it. Just take few minutes to make 10
cards.
Quotations:
1. Ask: If the inkjet pvc card double side printable ?
Reply: Yes
2. Ask: If need the specifical ink ?
Reply: No, Normal dye ink or pigment ink you use as usual.
3. Ask: If I could sign my name on the card ?
Reply: yes,you could write any word on the card with any type of the pen.
(Very supernatural)
RFID ,NFC Chip Available:


13.56MHZ:

MF 1k ,MF Ultralight ,MF Ultralight-C ,
MF Ntag203/213/215/216 ,MF DESfire EV1 2K/4k/8k
MF Plus-X/S 2k ,4K

Icode Sli-X /S ,Ti2048
125KHZ:

TK4100,EM4200,T5577,EM4305,EM4450


860-960MHZ:

Alien H3
Epson Printer Tray Model:

Epson Old models : R230/R300/R200/R220/R320/R310/R350/R210 etc
(The trays for this models are the same)
Epson New models: R330,R290, P50, Artisan50, T50, T60, R390, L800 Tx720wd,
Px700w, Px800FW, Px665, px660,RX680, R260, R265, R270, R280, R285, R380 etc
(The tray s for these models are the same)
Available Printer For Canon J Tray:
IP 5400 7200 7230 7240 7250
MX 923
MG 5420 5430 5450 5550 6320 6330 6350 6450 6530 7120 7130
Available Printer For Canon G Tray:

PIXMA IP4600 IP4700 IP4680 IP4760 IP4850 IP4950 IP4840
IP4940 IP4820 IP4920 IP4880 IP4980 IP4870 IP4970 IP4810 IP4910 IP4830 IP4930
MP630 MP640 MP980 MP990 MG5250 MG6150 MG8150 MG8250
MG5250 MG6140 MG8140 MG5220 MG5320 MG8120 MG6120 MG6220
MG6180 MG8180 MG6170 MG8170

What we can do :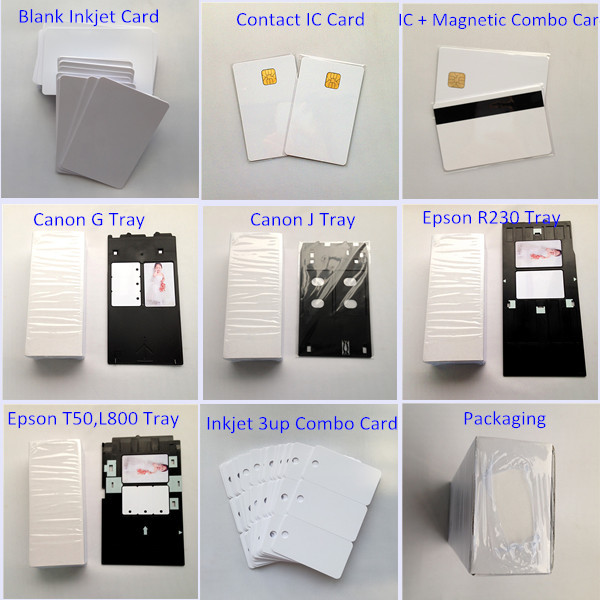 Package :


Common Package:230pcs /inner box ,15box inner carton